A wide selection of modern and vintage funeral vehicles
Over the years we have taken great pride in providing the highest quality vehicles available
Rolls Royces, Jaguars & More
Over the years we have taken great pride in providing the highest quality vehicles available
A wide selection of modern and vintage funeral vehicles
Over the years we have taken great pride in providing the highest quality vehicles available
Both Carriages & Cars Available
Over the years we have taken great pride in providing the highest quality vehicles available
Vintage Motor & Horse Drawn Hearse Hire Essex & London
T Cribb and Sons Carriages have been in demand for funerals since the early part of the last century and the company was largely responsible for reintroducing the spectacle of horse-drawn funerals in London's East End in the 1980s.
We have over 16 horses stabled at the Cribb family farm in Essex, including grey Hungarians and grey Gelderlanders as well as our magnificent Belgian Blacks. Working in a pair or as a team of four, our horses and carriages are the most dignified and impressive cortege possible, and a fitting tribute to the passing of a life.
Our clients can choose from a variety of horse drawn hearses and mourners carriages including an original 1900 'Washington' glass hearse, an 1896 Thrupp & Maberley barouche and the Shillibeer.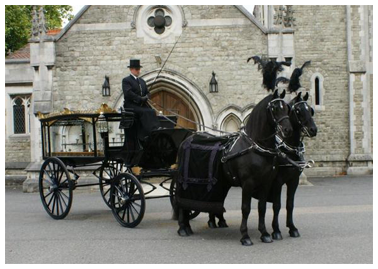 A classic Victorian black hearse with gold leaf decoration. Pulled by matched Friesians, dressed in plumes and funeral harness, a classic carriage hearse is an impressive addition to any funeral procession.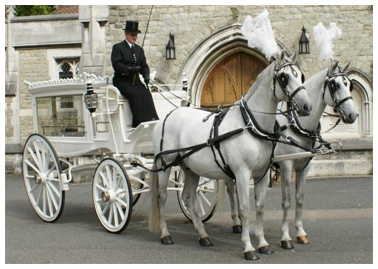 White horse-drawn hearses pulled by either black or grey horses are very rare; they are most popular with the younger generation or those with religious faiths.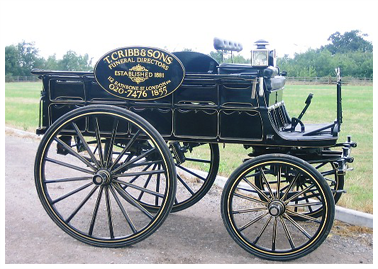 This original Edwardian Floral Van is a perfect accompaniment to a horse drawn funeral when expecting a large amount of flowers. Pulled by a pair of horses, this floral van really compliments the horse drawn carriage.
T Cribb and Sons have two superb examples of mourners' coaches, carefully and sensitively restored to their full glory. Both are in high demand for events as well as funerals and are suitable for either a pair or team of horses.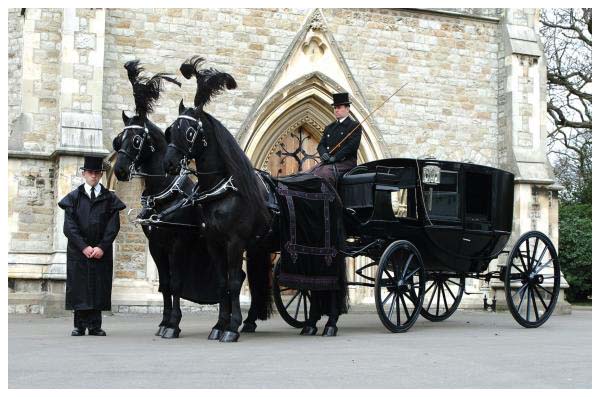 This original Victorian Mourners Coach built in 1898, is glossy black with mid-blue lining. The beveled glass windows are adorned with working black silk blinds and the carriage still has its original buttoned black leather upholstery. This can be pulled by a pair or a team of horses to suit your requirements.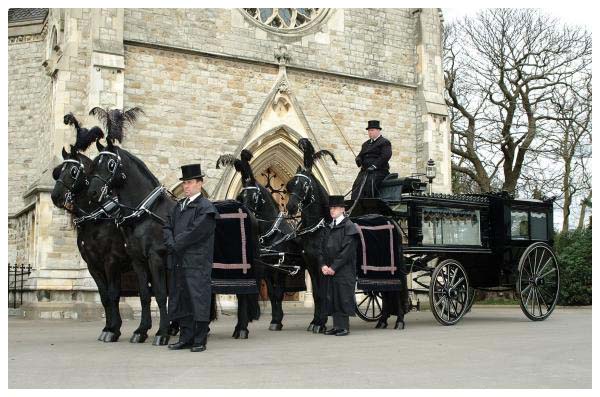 This Shillibeer mourning coach is believed to be the only one of its kind still working in the UK, it is an impressive funeral carriage. The rear section which carries the chief mourners is fully enclosed, omnibus style. Pulled by a team of horses in full funeral regalia.
We have cultivated a selection of vintage hearses over the years which are available to hire all over the UK. Our vintage Austin's are one of the first examples of motorised hearses alongside our Classic Rolls Royce's which provide a truly elegant send off with our Bedford's providing something a little bit different.
Funeral Cars For Hire In Essex & London
Over the years we have taken great pride in providing the highest quality vehicles available, with our selection of modern and vintage vehicles, whatever your choice of vehicle we will endeavour to provide it.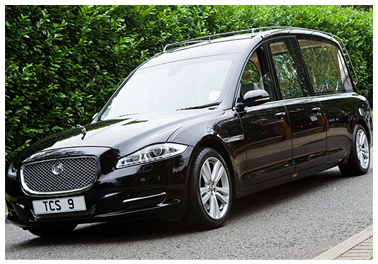 Our Jaguar XJ Hearse combines class and elegance.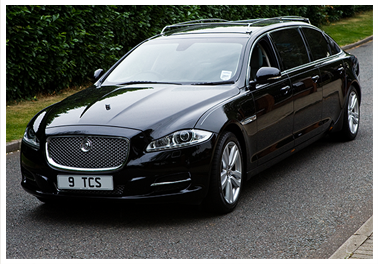 Our new fleet of Stretched Jaguar XJ Limousines, finished with grey leather interiors and custom suspension.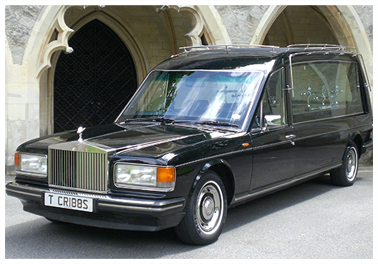 Our classic Rolls Royce Silver Spur Hearse has been in our service for twenty years, and is a very popular choice.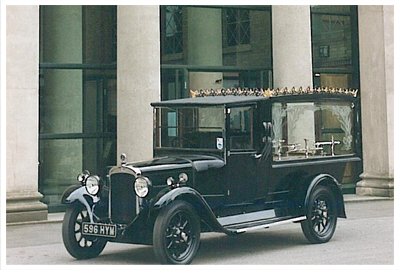 Our 1933 Austin 16 hearse, originally from Ireland has been restored back to its original condition.  It is now one of the most popular hearses in our fleet.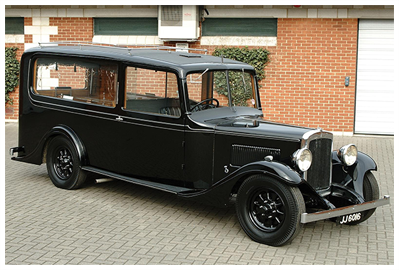 A Vintage 1934 Austin 20, is one of the first examples of a purpose coach-built hearse.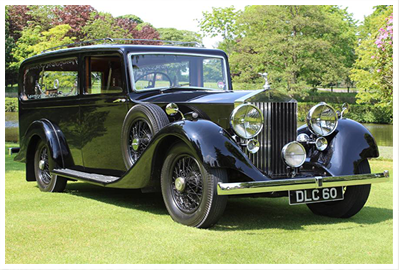 A recent addition to our classic fleet is a pristine 1936 Rolls Royce 20/25. A truly unique car available to make your loved ones journey special.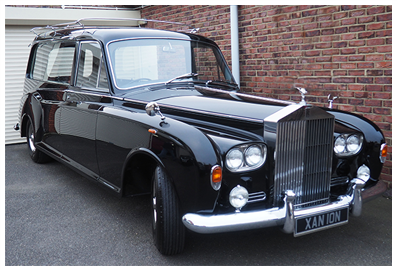 An Icon of its generation our 1974 Rolls Royce Phantom, it has been in our family for over 30 years now and having just been restored. We are proud to offer this to our families.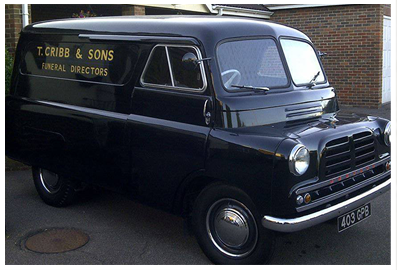 One of the first mass produced vans, a popular sight in the East End in the 1956 Our Bedford CA van is now a unique focal point to any funeral.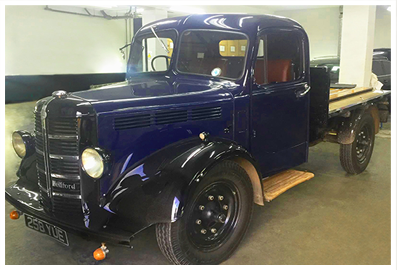 A 1951 Bedford drop side lorry, fresh from a bare metal restoration. Available as an alternative to a hearse or a floral vehicle.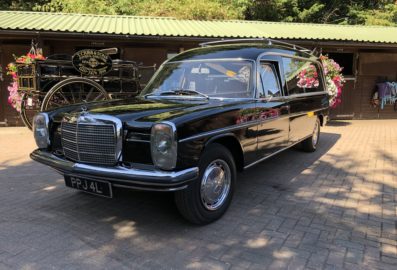 Our newest Hearse, a 1972 Mercedes Benz E320, Mercedes Benz's best selling car and one of the best looking generations of the E class
For those wishing a more alternative form of transport we can provide a motorcycle hearse, a pink Daimler hearse or even a London Route-master bus.
These are just a small sample of what we can provide.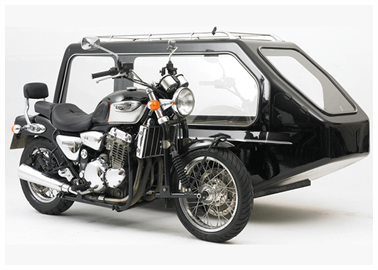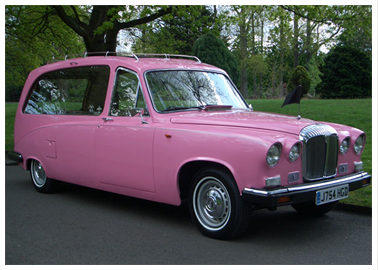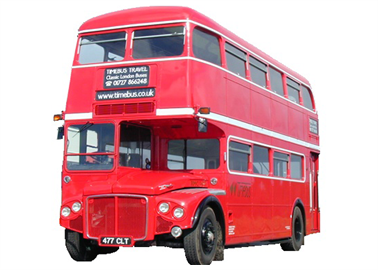 Setting the highest standards for funeral services, facilities and care in Essex & London
At TCribb, we spend time getting to know you; respecting and honouring your loved one's final wishes. Each and every one of our Funeral Directors will be by your side to listen, advise and guide you through all your options.
Families choose us because the little details matter to us just as much as they matter to you.  We understand this is one of the most difficult times in your life, and we're here to look after you and your loved one as if you were a member of our own family.