Horse Drawn Funerals Essex & London
T Cribb and Sons Carriages have been in demand for funerals since the early part of the last century and the company was largely responsible for reintroducing the spectacle of horse-drawn funerals in London's East End in the 1980s.
We have over 16 horses stabled at the Cribb family farm in Essex, including grey Hungarians and grey Gelderlanders as well as our magnificent Belgian Blacks. Working in a pair or as a team of four, our horses and carriages are the most dignified and impressive cortege possible, and a fitting tribute to the passing of a life.
Our clients can choose from a variety of horse drawn hearses and mourners carriages including an original 1900 'Washington' glass hearse, an 1896 Thrupp & Maberley barouche and the Shillibeer.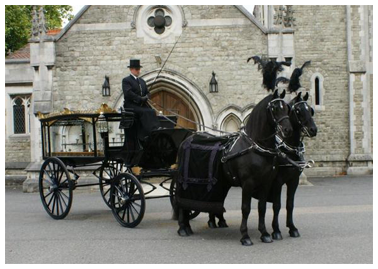 A classic Victorian black hearse with gold leaf decoration. Pulled by matched Friesians, dressed in plumes and funeral harness, a classic carriage hearse is an impressive addition to any funeral procession.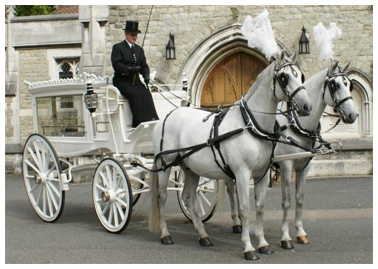 White horse-drawn hearses pulled by either black or grey horses are very rare; they are most popular with the younger generation or those with religious faiths.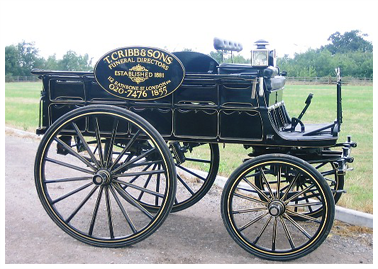 This original Edwardian Floral Van is a perfect accompaniment to a horse drawn funeral when expecting a large amount of flowers. Pulled by a pair of horses, this floral van really compliments the horse drawn carriage.
T Cribb and Sons have two superb examples of mourners' coaches, carefully and sensitively restored to their full glory. Both are in high demand for events as well as funerals and are suitable for either a pair or team of horses.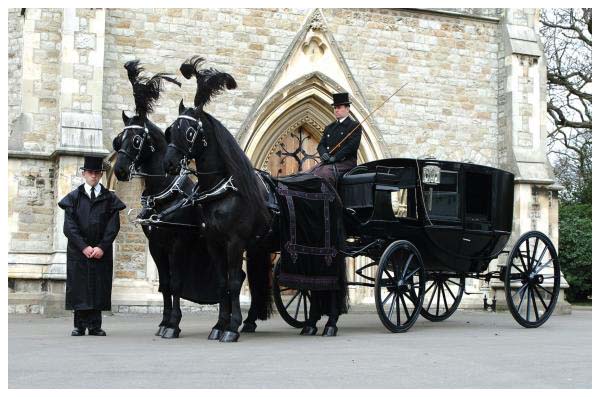 This original Victorian Mourners Coach built in 1898, is glossy black with mid-blue lining. The beveled glass windows are adorned with working black silk blinds and the carriage still has its original buttoned black leather upholstery. This can be pulled by a pair or a team of horses to suit your requirements.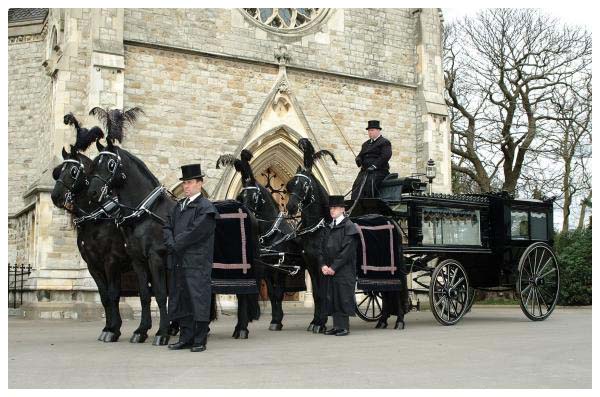 This Shillibeer mourning coach is believed to be the only one of its kind still working in the UK, it is an impressive funeral carriage. The rear section which carries the chief mourners is fully enclosed, omnibus style. Pulled by a team of horses in full funeral regalia.
We also have a wide selection of motor vehicles, including modern Jaguar XJs, a Rolls Royce hearse, as well as two vintage 1930s Austins and a classic Rolls Royce Phantom hearse. For further information please contact us.
Horse Drawn Carriages For Funerals In Essex & London
Setting the highest standards for funeral services, facilities and care in Essex & London
At TCribb, we spend time getting to know you; respecting and honouring your loved one's final wishes. Each and every one of our Funeral Directors will be by your side to listen, advise and guide you through all your options.
Families choose us because the little details matter to us just as much as they matter to you.  We understand this is one of the most difficult times in your life, and we're here to look after you and your loved one as if you were a member of our own family.