To help you personalise your loved ones funeral we offer many additional services, examples of which can be seen below.
Floral Tributes / Donations
Many families now choose the option of having both floral tributes and donations to a charity in memory of a loved one.
Floral Tributes can be selected in our offices, or we can recommend a local florist for you to select coffin sprays and wreaths or to create a more personalised tribute. The floral tributes can be delivered to one of our offices or directly to the house or crematorium, depending on your preference.
If donations are desired we can provide a donation basket at the service, we can either return the donations back to you following the service, or we can look after the donations on your behalf and send them directly to the charity.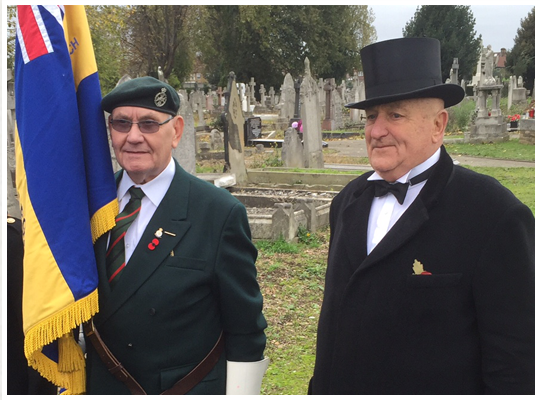 Stan Cribb with Royal British Legion Standard Bearer
Funeral stationary is another way of personalising a funeral, it also gives the family something to treasure and keep after the service. We can provide Order of Service Sheets, Memorial Cards and thank you cards if required
We can provide full catering services in our service room at Victoria House, Beckton, together with facilities for 24-hour vigils. Our service room has a seating capacity of fifty, and is available for religious and non-religious services and vigils.
The realising of doves is a beautiful way to conclude the funeral service, a final goodbye for the family members and friends. The doves can be released personally by the family or they can fly straight from the basket.
A photo album captures the different emotions and memories of the day with beautiful uplifting photographs for you to keep and treasure. The photographer would be very discreet and take photographs at the home address, funeral service and at the wake.
Standard bearers can usually be requested at your local legion or other military based organisations if the deceased was a regular member. This is something that we can organise on your behalf if needed.
We can arrange a selection of musicians for the service if desired, such as a bagpiper, soloist, organist or buglar, if you require any other musicians please ask.
We have many years of experience placing newspaper notices in both local and national newspapers and helping the family compose an obituary. If you require a newspaper notice, please inform a member of staff and they will be able to organise this for you.
A condolence book gives you a chance to read and share memories of a loved one. We have different varieties of condolence books on display in our offices, we can also provide personalised books.
Setting the highest standards for funeral services, facilities and care in Essex & London
At TCribb, we spend time getting to know you; respecting and honouring your loved one's final wishes. Each and every one of our Funeral Directors will be by your side to listen, advise and guide you through all your options.
Families choose us because the little details matter to us just as much as they matter to you.  We understand this is one of the most difficult times in your life, and we're here to look after you and your loved one as if you were a member of our own family.